---
1. Travel
International fright to the Kansai International Airport (KIX), and railway from the airport to Himeji Station. It takes about 2 hours from KIX to Himeji Station. The conference site, Egret Himeji, is 10 minutes walk from the station. Detailed guide on trains from airport to Himeji station is here.
However, the simplest and cheapest way from Kansai International Airport (KIX) to Himeji is use of Airport Limousine Bus!
Departure
Kansai Int. AP

8:35 AM

9:35 AM

11:35 AM

1:15 PM

3:35 PM

5:35 PM

7:15 PM

8:35 PM

Arrival
Himeji Station

10:45 AM

11:45 AM

1:45 PM

3:25 PM

5:55 PM

7:55 PM

9:25 PM

10:45 PM
Non-stop bus, return ticket: 5,000 Yen.
This Limousine Bus will be available from 15th July.
Egret Himeji

You can also use international flight to the Narita International Airport (NRT), and connecting flight (domestic flight) from Narita to Osaka(OSA). From Osaka Airport to Himeji by Airport Limousine Bus or railway.

We never recommend use of rent-a-car in Japan. Driving in Japan is not comfortable even for our Japanese, because of heavy traffic jam, poor road sign, and unreasonable toll of highway. Please remember that Japan is not "a nation on the wheel" but "a nation on the rail".

2. Hotels and Tours

We recomend foreign attendant to reserve the hotel via Shinki Travel Service (Co., Ltd.) because of the difficulty in language (Most of local inns in Himeji may not accept the reservation in English).
Please visit following web-site : http://www.snk-travel.com/

Guide of sightseeing and optional tour are also available at the above web-site.

3. Visas
Please watch the web-site of Ministry of Foreign Affair, Japan.
http://www.mofa.go.jp/j_info/visit/visa/index.html

4.Tax and Tips
A consumer tax (VAT) rate is 5% in Japan, but it is included in prices.
There are no customs of tip in Japan. Instead of tip, a 10% service charge might be added in your bill at restaurants, bars or hotels.

5. Climate
The climate of Japanese summer is simply summarized by two words "hot and wet". Average temperature in July is 26 Celsius degree (°C) in Himeji, and humidity is 77%! The temperature is usually over 30 °C in day time. However, the conference site is fully air-conditioned.

6. Electricity
100 V/60 Hz, Two-parallel-blade type connector. See figure. Please remind that the US connectors resembling to this are not full-compatible in Japan.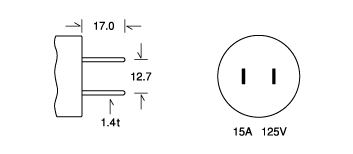 7. Currency and Credit Card
Local currency is Japanese Yen (JPY). You can also pay by your credit card (Amex, VISA, Mastercard, etc) at major hotels, restaurants, and shops, and you can also use US$ in some case. But you must remind that checking by credit card is not so popular in Japan as in USA or EU. Local shops or restaurants may not accept credit cards.
We recommend all the foreign participants to exchange to JPY at the airport.

---
xrm05@spring8.or.jp